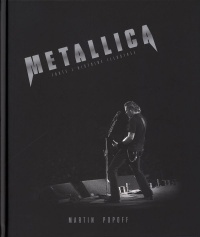 Metallica toute l'histoire illustrée
Member Price: $36.95
(what is it?)
Regular Price: $39.95
Members save:
$3.00 (8%)
Availability:
On order - shipped when received
ISBN-13:
9782896545292
ISBN-10: 2896545298
Description:
Cette édition revue et augmentée, constitue l'hommage ultime à Metallica, couvrant les plus récents coffrets de DVD et albums en concert du groupe. Formé à Los Angeles en 1981, Metallica est devenu le plus grand groupe heavy metal de l'histoire de la musique, avec des ventes de disques estimées à 100 millions d'exemplaires. Le groupe s'est produit un peu partout dans le monde.

Dans cette édition révisée de Metallica?: toute l'histoire illustrée, le célèbre journaliste de heavy metal Martin Popoff dirige une équipe d'experts pour écrire l'histoire de Metallica, analyser les albums studio et fournir une discographie complète. Plus de 300 images illustrent l'histoire du groupe?: les années de formation à bûcher dans les clubs de Los Angeles?; des tragédies, comme la mort de Cliff Burton, bassiste et cofondateur du groupe?; le triomphe de multiples disques de platine?; les changements de personnel, comme le départ de Dave Mustaine et Jason Newsted?; et les tournées mondiales. Les photographies de performances sur scène et dans les coulisses sont accompagnées de souvenirs des événements.


On a dit de Martin Popoff qu'il était le journaliste de heavy metal le plus célèbre du monde, quoiqu'il ait passé en revue beaucoup d'albums punk et new wave au cours d'une carrière qui compte plus de 7000 albums critiqués. Il a écrit plusieurs livres sur divers groupes, divers genres de rock et les collections de disques, dont chez Voyageur Press Rush?: The Illustrated History?; Metallica?: The Complete Illustrated History?; The Art of Metal et The Big Book of Hair Metal. Il a aussi participé à des films documentaires sur Rush et ZZTop. Il vit à Toronto avec son épouse et leur fils.