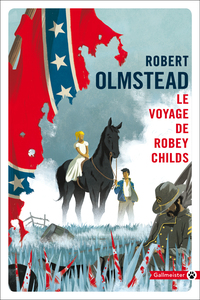 Preview this ebook
Voyage de robey childs (le)
Member Price: $15.49
(what is it?)
Regular Price: $16.95
Members save:
$1.46 (9%)
Availability:
Available - shipped within 2 business days after the order
Also available in
EPUB
and
PDF
formats for immediate download
Publication Year:
2021
ISBN-13:
9782351788103
ISBN-10: 2351788109
Description:
Un matin de 1863, la mère de Robey Childs s'éveille, effrayée par un songe. Persua- dée qu'un grand danger plane sur son mari, soldat de la guerre de Sécession, elle envoie Robey, âgé de quatorze ans, sur les traces de son père. Pour seul bagage, le garçon emporte une veste réversible, gris confédéré d'un côté, bleu de l'Union de l'autre. Ainsi commence pour Robey un voyage qui bouleversera sa vie. Monté sur un superbe cheval noir, cadeau providentiel d'un voisin, il traversera un pays en ruines, découvrant sur sa route la véritable nature des hommes.
Book Preview (based on ebook version)