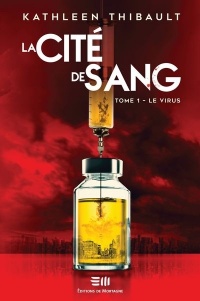 Preview this ebook
Cité de sang la 01 le virus
Member Price: $26.95
(what is it?)
Regular Price: $29.95
Members save:
$3.00 (10%)
Availability:
Available - shipped within 2 business days after the order
Also available in
EPUB
and
PDF
formats for immediate download
Publication Year:
2021
ISBN-13:
9782897923020
ISBN-10: 2897923024
Description:
La terre a été ravagée par un virus qui a rendu toute vie impossible. Ayant prédit la catastrophe, des chercheurs s'étaient déjà mis en quête d'un remède. Des survivants ont été emmenés dans une cité sous-marine, Idrissa, imperméable à l'horreur qui se déroulait à la surface. Avec leur sang, on a fabriqué l'antidote capable de sauver l'humanité. Cet endroit est tout ce qu'a connu Brynn depuis sa naissance, comme plusieurs générations avant elle. Elle s'y sent en sécurité et fait confiance au gouvernement… jusqu'à ce que des événements l'amènent à douter. Et si sa vie entière était basée sur un mensonge ?
Book Preview (based on ebook version)