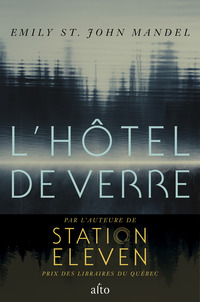 Preview this ebook
Member Price: $25.49
(what is it?)
Regular Price: $29.95
Members save:
$4.46 (15%)
Availability:
Available - shipped within 2 business days after the order
Also available in
EPUB
and
PDF
formats for immediate download
ISBN-13:
9782896945122
ISBN-10: 2896945121
Description:
Sur une île près de Vancouver, dans un hôtel à la beauté lugubre dressé au milieu d'une nature sauvage, convergent une poignée de destins fêlés. Alors qu'on attend la venue du riche propriétaire, un étrange graffiti apparaît sur la vitre de la réception. « Et si vous avaliez du verre brisé ? » Ce soir-là, une jeune femme prénommée Vincent officie au bar et le milliardaire lui offre une proposition qui fait tout basculer. Treize ans plus tard, elle disparaîtra du pont d'un cargo au large de la Mauritanie. Au fil d'un récit à relais qui nous entraîne dans une multitude de lieux interlopes — coulisses de Wall Street, terrains de camping pour les quasi-sans-abri, clubs undergrounds, hôtels de luxe, prisons fédérales —, on prend peu à peu la mesure de l'onde de choc créée par l'effondrement d'un réseau financier pyramidal. Dans cette fiction habilement ficelée qui précède les événements de Station Eleven (Prix des libraires du Québec 2016), Emily St. John Mandel prend un malin plaisir à brouiller les pistes et à convoquer les fantômes. Elle expose en outre les rouages de l'avidité et de la culpabilité, de l'amour et des illusions qui nous lient aux inconnus, ouvrant au passage une porte sur toutes les vies que nous n'avons pas vécues.
Book Preview (based on ebook version)