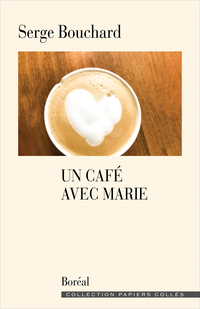 Preview this ebook
Member Price: $21.95
(what is it?)
Regular Price: $25.95
Members save:
$4.00 (15%)
Availability:
Usually shipped within 5 business days after the order
Also available in
EPUB
and
PDF
formats for immediate download
ISBN-13:
9782764626597
ISBN-10: 2764626592
Description:
« Nous prenons ce bon café, le premier du matin, nous établissons ensemble le plan de la journée, de la semaine. [...] Marie mange des oeufs à la coque avec des mouillettes. Nous voudrions tous les deux que ce moment dure, nous voudrions abolir le futur. [...] Plus rien n'existe que cet instant, que cette scène où nous discutons, Marie et moi, en buvant notre tasse de café. Mais le meilleur, c'est quand elle ne dit mot, quand je garde moi-même le silence, et que nous nous entendons penser, elle dans ma tête et moi dans la sienne. »Les quelque 70 textes qui composent ce nouveau recueil de Serge Bouchard pourraient s'appeler des « micro-essais », d'abord parce qu'ils ont été écrits pour la radio de Radio-Canada, et aussi en raison de l'exigence artistique qui les inspire, celle de la brièveté, c'est-à-dire d'une prose aussi dense, économique et précise que possible, et qui possède en même temps le pouvoir d'évocation de la poésie. Mais avant tout, ce recueil est un livre d'amour et de deuil, tout entier placé sous le signe de Marie, la compagne trop tôt disparue, dont la présence (ainsi que l'absence) colore chaque page, chaque phrase, chaque évocation. Non pas qu'il y soit toujours question d'elle, loin de là ; comme toujours chez Serge Bouchard, c'est de notre vie quotidienne, de notre monde, de notre passé, de la nature autour de nous qu'il est question, et en particulier de tout ce que nous ne voyons pas et que seul le regard affûté du poète anthropologue sait nous faire découvrir. Mais Marie est toujours là, tout près, en arrière-plan, dans la pièce d'à côté, en quelque sorte, et c'est dans son regard et son esprit à elle que tout se déploie, autant que dans ceux de son compagnon qui tient la plume.
Book Preview (based on ebook version)