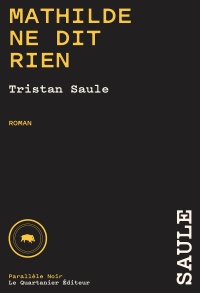 Preview this ebook
Member Price: $22.95
(what is it?)
Regular Price: $26.95
Members save:
$4.00 (15%)
Availability:
Available - shipped within 2 business days after the order
Also available in
EPUB
and
PDF
formats for immediate download
ISBN-13:
9782896985494
ISBN-10: 2896985492
Description:
La fin de la trêve hivernale approche, et Mathilde découvre que ses voisins sont menacés d'expulsion. Les recours légaux n'ont rien donné. Mathilde n'a pas toujours été travailleuse sociale. Mathilde porte en elle de sombres secrets. Mathilde ne dit rien, mais Mathilde va prendre les choses en main. Dans ce premier roman des Chroniques de la place carrée, suspense et tension viennent bouleverser le portrait d'une femme brisée qui fait face à son dernier choix : se battre ou disparaître.
Book Preview (based on ebook version)