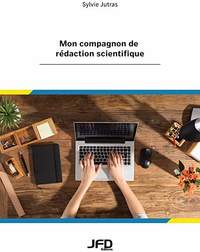 Preview this ebook
Mon compagnon de rédaction scientifique
Member Price: $40.95
(what is it?)
Regular Price: $44.95
Members save:
$4.00 (9%)
Availability:
Available - shipped within 2 business days after the order
Also available in
EPUB
and
PDF
formats for immediate download
Publisher:
Les Éditions JFD
ISBN-13:
9782897990350
ISBN-10: 289799035X
Description:
Cet ouvrage présente des principes de rédaction pour mieux écrire, développer ses habiletés argumentatives, acquérir de bonnes techniques, et travailler avec plaisir et efficacité.

Sylvie Jutras expose le principe de penser comme le lecteur à travers toutes les étapes de rédaction. Elle l'applique en traitant la pensée critique, l'art de l'argumentation, la structuration d'un texte scientifique, la lisibilité, la probité intellectuelle et la révision de ses écrits. Une trousse d'astuces réunit des conseils pour gérer son temps et son environnement de travail, tirer profit d'outils de rédaction, stimuler son inspiration, et maintenir sa concentration et ses énergies.

Mon compagnon de rédaction scientifique s'adresse aux personnes qui œuvrent ou étudient dans divers domaines dont les sciences humaines et sociales, la santé, la gestion, la communication ou l'éducation. Les conseils proposés s'appliquent en recherche quantitative, qualitative ou mixte, pour écrire en français ou dans une autre langue.

Les principes et stratégies exposés serviront pour rédiger un article, un travail pour un cours, un mémoire, une thèse ou un rapport professionnel d'analyse, d'évaluation ou d'expertise.

Ce guide de rédaction vous permettra d'écrire des textes plus solides, plus convaincants, qui rendent justice à votre travail intellectuel et à la valeur de vos idées et découvertes.
Book Preview (based on ebook version)