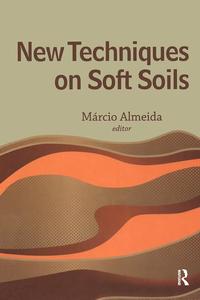 New Techniques on Soft Soils
Member Price: $105.95
(what is it?)
Regular Price: $111.90
Members save:
$5.95 (5%)
Availability:
Available - shipped within 2 business days after the order
ISBN-13:
9781138112001
ISBN-10: 1138112003
Description:
Summary
•practically oriented reference volume on soft soil engineering
•contains case studies of soft soil techniques from all over the world

New Techniques on Soft Soils covers a wide range of updated techniques related to site investigation, vertical drains, surcharge, piled embankment, granular piles, deep mixing, monitoring and performance. An essential reference for designers and practitioners involved in soft soil construction, it provides a comprehensive view of current experiences and opinions of researchers and professionals from different parts of the world involving site investigation, design and construction on soft clays.

This book presents a collection of selected expert contributions on innovations in soft soil engineering, that were presented at the Symposium on New Techniques for Design and Construction in Soft Clays held in Guarujá, Brazil, on 22 and 23 May 2010.